Do you dream of breathing in salty fresh air whilst strolling on a long sandy beach or perhaps the challenge of an all day hike up a mountain? Whatever experience you desire, wherever you may find it, you will have the luxury of knowing that the comfort and safety of home will always be close at hand.
Sit back, relax and enjoy the style that the Avida Longreach has to offer. The slide out room/s enhance the living experience by creating an awesome entertainment area manufactured on the eco friendly rugged Isuzu chassis.
Complete the loop around Australia and never sacrifice a home cooked meal, the kitchen will delight the fussiest chef; and the space will amaze you. The bedroom features a queen size bed with comfortable envirofoam mattress on posturepedic bed slats, coordinated bedspread and cushions, a huge wardrobe and heaps of drawers. Wake up refreshed, yawn, stretch and greet another incredible day.
The C9536SL Longreach gives you plenty of options on the road. All Longreach models comes with a rear double island bed in the bedroom plus an additional double bed over the cab.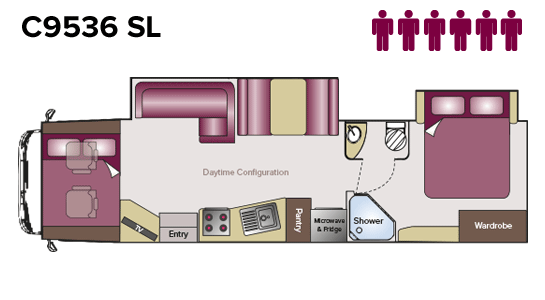 | | |
| --- | --- |
| Model | C9536SL |
| Isuzu NH NQR 450 premium AMT | Yes Avaliable |
| Exterior Length | 9590mm |
| Exterior Width | 2490mm |
| Exterior Height | 3600mm |
| Wheel Base | 5425mm |
| Interior Height | 1980mm |
| Fresh Water Capacity | 250ltr |
| Grey Water Capacity | 125ltr |
| Black Water Capacity | 38ltr |
| Hot Water Capacity | 23ltr |
| LP Gas | 2 x 9kg |
* Due to continuous improvement, specifications are subject to change without notice.
12 volt hatch in shower
Avida shower system
Mirror with lights over vanity
Separate vanity basin
Sky light in shower
Toilet roll holder
Colour co-ordinated bed quilt cover
Full length wardrobe
Electric lift up beds on gas struts
Multi layered comfort mattress on main bed
Posturpedic bed slats that contour to your body
3 external fibreglass colour choices
13 external colour matched exclusive decals
Avida welded metal frame foam insulated super panel
Below floor storage bins hinged from side for better access
Domed roof for water run-off
Door entry grab handle & light
Double electric entry step
Fibreglass moulded front above cabin
Foam insulated floor walls & roof
Large pass through storage bins
Metal under floor protection
Motorhome entry door with dead bolt & fly screen
Mud flaps front & rear
One piece EDPM rubber roof
One piece fibreglass moulded rear wall
One piece pinchweld seal on storage bins
One piece fully insulated laminated floor
Rear fibreglass moulded back wall
Roll out awning
Roof rack & ladder
Slide out battery tray
Smooth external fibreglass
Storage for BBQ equipment and ancillaries
Twin slide out room system
Windows – louver with fly screens
Cabin carpet mat
CD player with MP3 playback, AM/FM radio, iPod charge & control facility
Electrically adjustable and heated side mirrors
Large access to motorhome from cabin
Lumber support front seats
Multi information display with GPS
Rear vision camera
Windshield privacy curtain
Power Windows
Power Steering
Power Mirrors
Central Locking
Cruise Control
ASR Traction Control
Driver & Passenger Airbags
ABS Braking System & Exhaust Brakes
Front Fog Lamps
Engine Immobiliser
Climate Controlled Air Conditioning
Multi Information Display
Contoured Bucket Seats With Lumbar Support
90 Degree Cabin Door Opening
12 & 240 volt power systems
12 volt LED lighting throughout
2 x Awning lights
2 x Solar panels battery charging with regulator
3 x 100amp isolated motorhome batteries
Avida's unique LCD 12 volt integrated energy management system with digital clock, battery voltage & amperage reading, interior and exterior temperature reading & 12 volt low voltage cut out switch
Ceiling feature with LED lighting
Ceiling lights with switches down low
Earth leakage protector – 240 volt
External entertainment unit with TV, external speakers, table, 12 volt & 240 volt power
External fridge
Generator 240V 3.6 KVA Internal Start
High mounted radio aerial with booster
Inverter 2000W with 100amp battery charger
LCD TV/DVD in bedroom
Motorised LCD TV/DVD in living area
Wind-up TV antenna with signal booster
13 interior fabric collections
Lift up bed over cabin
ADR approved child restraint
ADR Lap sash seat belts in rear
Aluminium cabinet rails for strength
Avida digital clock
Coat hooks
Day & night shades
Fabric L-shaped lounge with pul out bed
Key hooks
Ladder for cab over bed
Large slide out room for extra livability
Magazine holder
Metal draw runners with 100% extension
Radius benchtops
Satin steel 'D' handles on cabinet doors
Vinyl floor throughout
12 volt large Euro roof hatch
12 volt roof vent in bathroom
240 volt roof mounted ducted air-conditioning
Avida's unique roof mounted ducted air conditioning system
Flush clamp type radius motorhome windows with safety glass
3 way auto change over 2 door fridge/freezer 184 litre
Bench extension
Cutlery drawer insert
External 12 volt fridge
Slide out pantry
Sink & drainer
Stainless steel carousel microwave
Stainless steel rangehood with fan and light
Stove – 3 burner LPG with one 240 volt element
Stylish co-ordinated splash back
Tea towel rail
2 x 9kg LP Gas Bottles
External BBQ area – sink, drainer, tap, BBQ storage on slide
External BBQ fitting
External shower
Hot water system 12 volt electric start/gas & 240 volt
Mains water pressure reducer
Separate tap at sink with water filter
Single lever mixer taps
Waste evacuation hose
Waste pipes are 40mm in diameter
Water tank & battery monitor system
Entry Grab Rail – Internal
External handle
Fire extinguisher
High mounted rear brake light
LP gas leak detector
Safety cupboard door catches
Safety exit
Smoke detector
Numerous external colour matched exclusive decals
Plenty of internal fabric colour collections
Variety of external fibreglass colour choices
Bull bar
External feature paint
Hydraulic levelling stabilisers
Paint – full external
Storage unit replacing front lift up bed
Ultra leather seating (not inc. lounge)
* Due to continuous improvement, specifications are subject to change without notice.
| | |
| --- | --- |
| Model | C9536SL |
| Isuzu NH NQR 450 premium AMT | Yes Avaliable |
| Exterior Length | 9590mm |
| Exterior Width | 2490mm |
| Exterior Height | 3640mm |
| Wheel Base | 5425mm |
| Interior Height | 1980mm |
| Fresh Water Capacity | 250ltr |
| Grey Water Capacity | 125ltr |
| Black Water Capacity | 38ltr |
| Hot Water Capacity | 23ltr |
| LP Gas | 2 x 9kg |
Chassis Specifications
| | |
| --- | --- |
| Chassis | Isuzu NQR450 Premium |
| Engine | 4 cylinder turbo diesel |
| Displacement | 5193cc |
| Power | 139kw (186hp) @ 2600rpm |
| Torque | 510Nm @ 2600rpm |
| Transmission | 6 Speed Automated Manual |
| Fuel Type | Diesel |
| Fuel Capacity | 140lt |
| Rear Wheel Configuration | Dual Rear Wheels |
| Tyres | 225/70R |
| Wheelbase | 5425mm |
| Suspension | Front Airbag Assisted Multi Leaf Suspension |
| Brakes | Front Disc & Rear Drum Brakes |
| Gross Vehicle Mass | 8700kg |
| Gross Combined Mass | 12200kg |
| Licence Requirement | Medium Rigid (MR) |
The C9536SL Longreach gives you plenty of options on the road. All Longreach models comes with a rear double island bed in the bedroom plus an additional double bed over the cab.

| | |
| --- | --- |
| Model | C9536SL |
| Isuzu NH NQR 450 premium AMT | Yes Avaliable |
| Exterior Length | 9590mm |
| Exterior Width | 2490mm |
| Exterior Height | 3600mm |
| Wheel Base | 5425mm |
| Interior Height | 1980mm |
| Fresh Water Capacity | 250ltr |
| Grey Water Capacity | 125ltr |
| Black Water Capacity | 38ltr |
| Hot Water Capacity | 23ltr |
| LP Gas | 2 x 9kg |

* Due to continuous improvement, specifications are subject to change without notice.

12 volt hatch in shower
Avida shower system

Mirror with lights over vanity
Separate vanity basin

Sky light in shower
Toilet roll holder

Colour co-ordinated bed quilt cover
Full length wardrobe

Electric lift up beds on gas struts

Multi layered comfort mattress on main bed

Posturpedic bed slats that contour to your body

3 external fibreglass colour choices
13 external colour matched exclusive decals
Avida welded metal frame foam insulated super panel
Below floor storage bins hinged from side for better access
Domed roof for water run-off
Door entry grab handle & light

Double electric entry step
Fibreglass moulded front above cabin
Foam insulated floor walls & roof
Large pass through storage bins
Metal under floor protection
Motorhome entry door with dead bolt & fly screen

Mud flaps front & rear
One piece EDPM rubber roof
One piece fibreglass moulded rear wall
One piece pinchweld seal on storage bins
One piece fully insulated laminated floor
Rear fibreglass moulded back wall

Roll out awning
Roof rack & ladder
Slide out battery tray
Smooth external fibreglass
Storage for BBQ equipment and ancillaries
Twin slide out room system
Windows – louver with fly screens

Cabin carpet mat
CD player with MP3 playback, AM/FM radio, iPod charge & control facility

Electrically adjustable and heated side mirrors
Large access to motorhome from cabin

Lumber support front seats
Multi information display with GPS

Rear vision camera
Windshield privacy curtain

Power Windows
Power Steering
Power Mirrors
Central Locking

Cruise Control
ASR Traction Control
Driver & Passenger Airbags
ABS Braking System & Exhaust Brakes

Front Fog Lamps
Engine Immobiliser
Climate Controlled Air Conditioning

Multi Information Display
Contoured Bucket Seats With Lumbar Support
90 Degree Cabin Door Opening

12 & 240 volt power systems
12 volt LED lighting throughout
2 x Awning lights
2 x Solar panels battery charging with regulator
3 x 100amp isolated motorhome batteries

Avida's unique LCD 12 volt integrated energy management system with digital clock, battery voltage & amperage reading, interior and exterior temperature reading & 12 volt low voltage cut out switch
Ceiling feature with LED lighting
Ceiling lights with switches down low
Earth leakage protector – 240 volt

External entertainment unit with TV, external speakers, table, 12 volt & 240 volt power
External fridge
Generator 240V 3.6 KVA Internal Start
High mounted radio aerial with booster

Inverter 2000W with 100amp battery charger
LCD TV/DVD in bedroom
Motorised LCD TV/DVD in living area
Wind-up TV antenna with signal booster

13 interior fabric collections
Lift up bed over cabin
ADR approved child restraint
ADR Lap sash seat belts in rear
Aluminium cabinet rails for strength

Avida digital clock
Coat hooks
Day & night shades
Fabric L-shaped lounge with pul out bed

Key hooks
Ladder for cab over bed
Large slide out room for extra livability
Magazine holder

Metal draw runners with 100% extension
Radius benchtops
Satin steel 'D' handles on cabinet doors
Vinyl floor throughout

12 volt large Euro roof hatch
12 volt roof vent in bathroom

240 volt roof mounted ducted air-conditioning
Avida's unique roof mounted ducted air conditioning system

Flush clamp type radius motorhome windows with safety glass

3 way auto change over 2 door fridge/freezer 184 litre
Bench extension
Cutlery drawer insert

External 12 volt fridge
Slide out pantry
Sink & drainer

Stainless steel carousel microwave
Stainless steel rangehood with fan and light
Stove – 3 burner LPG with one 240 volt element

Stylish co-ordinated splash back
Tea towel rail

2 x 9kg LP Gas Bottles
External BBQ area – sink, drainer, tap, BBQ storage on slide
External BBQ fitting

External shower
Hot water system 12 volt electric start/gas & 240 volt
Mains water pressure reducer

Separate tap at sink with water filter
Single lever mixer taps
Waste evacuation hose

Waste pipes are 40mm in diameter
Water tank & battery monitor system

Entry Grab Rail – Internal
External handle

Fire extinguisher
High mounted rear brake light

LP gas leak detector
Safety cupboard door catches

Safety exit
Smoke detector

Numerous external colour matched exclusive decals
Plenty of internal fabric colour collections
Variety of external fibreglass colour choices

Bull bar
External feature paint

Hydraulic levelling stabilisers
Paint – full external

Storage unit replacing front lift up bed
Ultra leather seating (not inc. lounge)

* Due to continuous improvement, specifications are subject to change without notice.

| | |
| --- | --- |
| Model | C9536SL |
| Isuzu NH NQR 450 premium AMT | Yes Avaliable |
| Exterior Length | 9590mm |
| Exterior Width | 2490mm |
| Exterior Height | 3640mm |
| Wheel Base | 5425mm |
| Interior Height | 1980mm |
| Fresh Water Capacity | 250ltr |
| Grey Water Capacity | 125ltr |
| Black Water Capacity | 38ltr |
| Hot Water Capacity | 23ltr |
| LP Gas | 2 x 9kg |

Chassis Specifications

| | |
| --- | --- |
| Chassis | Isuzu NQR450 Premium |
| Engine | 4 cylinder turbo diesel |
| Displacement | 5193cc |
| Power | 139kw (186hp) @ 2600rpm |
| Torque | 510Nm @ 2600rpm |
| Transmission | 6 Speed Automated Manual |
| Fuel Type | Diesel |
| Fuel Capacity | 140lt |
| Rear Wheel Configuration | Dual Rear Wheels |
| Tyres | 225/70R |
| Wheelbase | 5425mm |
| Suspension | Front Airbag Assisted Multi Leaf Suspension |
| Brakes | Front Disc & Rear Drum Brakes |
| Gross Vehicle Mass | 8700kg |
| Gross Combined Mass | 12200kg |
| Licence Requirement | Medium Rigid (MR) |