Luxury Adventures Await
Built on the powerful 4 cylinder turbo diesel, Iveco 70C chassis with airbag suspension and 205 horsepower, exploring Australia will be easy.
Luxurious and spacious with 3 slide out rooms, giving you a feeling of pure elegance inside.
Here's a collection of exterior, interior and lifestyle images of the Avida Birdsville motorhome. Click on an image to enlarge it – when enlarged you'll be able to use the controls to flick through the images or view as a slideshow.
Please note that various models are pictured in the photos below, and they may contain features or inclusions that are not standard, and are optional upgrades. Please consult your dealer for clarification of inclusions applicable to each model.
Fremantle C8614SL 3D Tour
The C8614 SL is creatively designed to provide plenty of living area without compromising on comfort. The Avida Fremantle range is a C Type motorhome featuring a 3 slide out model which is drivable on a Light Rigid (LR) licence and includes 3 TV's, 2 fridges, a bed above the cabin and much more.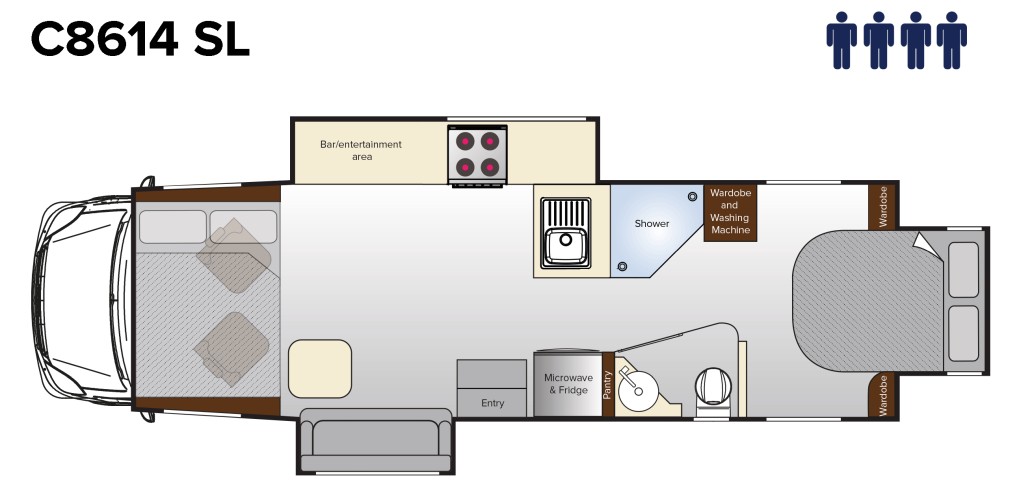 | Model | C8614 SL |
| --- | --- |
| Iveco Daily 70C-21 | Available |
| Exterior Length | 8610mm |
| Exterior Width | 2495mm |
| Exterior Height | 3390mm |
| Wheel Base | 4750mm |
| Interior Height | 2015mm |
| Fresh Water Capacity | 175ltr |
| Grey Water Capacity | 100ltr |
| Black Water Capacity | 19ltr |
| Hot Water Capacity | 10ltr |
| LP Gas | 3 x 4kg |
* Due to continuous improvement, specifications are subject to change without notice.
Features
 = Standard
 = Not available
 = Option
 = Select models
 = Tourer
QUALITY INCLUSIONS
Fremantle
Air Conditioner – Roof mounted
Avida's unique, strong, highly insulated and light weight sandwich panel construction with aluminium underfloor protection
Avida's own 12V & 240V integrated distribution control panel & energy management system
Bar/entertainment area with 49inch TV and sound bar
Compliance – Certified weight certificate ex-factory with every vehicle
Compliance – RVMAP industry accredited manufacturer (look for the accreditation key)
External entertainment unit with radio speakers, table, 12V & 240V power & provision for TV
Fridge/freezer
Insulated walls and roof
LED mood lighting throughout
Microwave – Stainless steel
Motorhome battery in addition to the chassis battery – 100A 12V
x3
Recessed 3 burner LPG & 1 electric stainless steel stove with glass lid for extra bench space
Recessed LPG stainless steel stove with glass lid for extra bench space
Slide out pantry
Solar panel system with regulator
Splashback – Choice of several styles & colors
Television with DVD player
x3
Truma iNet – Control your hot water system/heater, and air conditioner through your phone
TV antenna – Wind-up with signal booster
USB charging station
Vinly floor throughout – Choice available
INTERIOR HIGHLIGHTS
Fremantle
Battery charger for motorhome battery
22A
Bench tops – Selection available to choose from
Cabinet door hardware – D handle with positive catch
Carpet mats – Removable
O
Cutlery drawer insert
Day & night shades
Décor – Colour co-ordinated throughout
Diesel furnace heater
Earth leakage protector – 240V
Electric roll down bed*

Electric slide out bed with tilt
Extended bench top
Fridge/freezer – 106L
Fridge/freezer – 90L compressor in bar/entertainment area
Fridge/freezer compressor
O
Full length wardrobe
Gas powered ducted heating system for air and water
Hot water system 12V electric start/gas & 240V
Inverter
2000W
Large skylight with flyscreen and blind over cabin
Lift up bed on gas struts
Magazine holder
Oven – Gas
Power – 12V & 240V
Reading lights
Roof vent in bathroom
Seating with choice of fabric collections
Separate tap at sink with water filter
Shelving
Shower
Single lever mixer water taps
Slide out room(s) – For extra living space

Stereo speakers in the rear
Storage – Ample throughout
Swivel bracket – Fitted to TV*
Table in lounge area – Removable
Tank & battery monitor system
Toilet roll holder
Toilet with cassette
Tooth brush holder
Towel rail
Tri fold table at dinette
Vacuum cleaner
Vanity basin
Washing machine
Waste pipes – Large to allow for better flow and minimise blocking – 40mm in diameter
Windows – Day & night shades
Windows – Double insulated dual pane windows with blind & flyscreen
Windows – Louvre windows with fly screens
Windshield privacy curtain
Wine bottle storage

EXTERIOR HIGHLIGHTS
Fremantle
Acrylic tail light surrounds
Aerodynamic moulded front
Awning – Electric
Awning – Light(s)
Awning – Roll out
O
Awning – Wind out
BBQ fitting
Chassis – Bull bar
O
Chassis – Nudge bar
O
Entry step – Electric
Entry step – Manual
Exclusive decals – Choice of many colour collections
External grab rail with light
External slide out kitchen sink – with ancillaries & BBQ caddy
External speakers – With additional radio inside
External surface mounted table
Fridge – 12V external
Full length roof guttering
Generator – Programmable energy command with remote start
2.3kVA
LED clearance lights
LP gas bottle
3x4kg
Motorhome entry door with dead bolt & fly screen
Moulded wheel arch flares
Mud flaps on rear wheels
Power point – external 240V
Roof rack & ladder
Satellite – TV receiver system automatic
O
Shower – External with hot and cold water
Solar panel wiring provisions
Stabilisers – Hydraulic stabilisers
Storage – On slide out for small BBQ, or portable generator
Storage bin – Lights
Storage bins – Hinged from side for easy access
Storage bins – Pass through
Stylish moulded rear wall
Tow bar & wiring
Water tank – Additional
SAFETY FEATURES
Fremantle
ABS – Antilock braking system
ADR approved child restraint
Driver and passenger airbags
Entry door grab handle & light
ESP – Electronic stability program control
Fire extinguisher(s)
High mounted rear brake light
LP gas leak detector
Reverse camera
Safety cupboard door catches
Smoke detector
CHASSIS FEATURES
Fremantle
Air bag suspension – rear
Air bag helper springs – front
Air conditioning
Bucket seats – Colour co-ordinated
Cabin entry side steps
Cruise control
Electric driver & passenger windows
Electric mirrors with demist function
GVM upgrade
Height & reach adjustable steering column
Power steering
Remote control central locking with engine immobiliser
Swivel seat(s)
Swivel seat(s) with arm rest(s)
O
Wheel dress rims
MULTI TERRAIN PACK (UPGRADE)
Fremantle
Spare wheel mounted on the rear wall for extra departure angle
Steel rear bumper
Nudge bar and driving lights
External BBQ fitting
Checker plate with black rear wall mould inserts
External shower with hot and cold water
Multi terrain decals
Solar panels
Additional fresh water tank
Specifications
| Model | C8614SL |
| --- | --- |
| Iveco Daily 70C-21 | |
| Exterior Length | 8610mm |
| Exterior Width | 2495mm |
| Exterior Height | 3390mm |
| Interior Height | 2015mm |
| Fresh Water Capacity | 175ltr |
| Grey Water Capacity | 100ltr |
| Black Water Capacity | 19ltr |
| Hot Water Capacity | 10ltr |
| LP Gas | 3 x 4kg |
Chassis Specifications
| | |
| --- | --- |
| Chassis | Iveco 70C-21 |
| Engine | 4 cylinder twin turbo diesel |
| Displacement | 2998cc |
| Power | 150kw (205hp) @ 3500rpm |
| Torque | 470Nm @ 3000rpm |
| Transmission | 8 Speed Automatic (Hi-Matic) |
| Fuel Type | Diesel |
| Fuel Capacity | 100lt |
| Rear Wheel Configuration | Dual rear wheels |
| Gross Vehicle Mass | 7200kg |
| Gross Combined Mass | 10700kg |
| Towing Capacity | 3500kg |
| Tyres | 225/75R16 |
| Wheelbase | 4750mm |
| Suspension | Front Independent with Adjustable Steel Torsion Bar, Rear Single Reinforced Leaf Spring with Airbag |
| Licence Requirement | Light Rigid (LR) |
The C8614 SL is creatively designed to provide plenty of living area without compromising on comfort. The Avida Fremantle range is a C Type motorhome featuring a 3 slide out model which is drivable on a Light Rigid (LR) licence and includes 3 TV's, 2 fridges, a bed above the cabin and much more.

| Model | C8614 SL |
| --- | --- |
| Iveco Daily 70C-21 | Available |
| Exterior Length | 8610mm |
| Exterior Width | 2495mm |
| Exterior Height | 3390mm |
| Wheel Base | 4750mm |
| Interior Height | 2015mm |
| Fresh Water Capacity | 175ltr |
| Grey Water Capacity | 100ltr |
| Black Water Capacity | 19ltr |
| Hot Water Capacity | 10ltr |
| LP Gas | 3 x 4kg |

* Due to continuous improvement, specifications are subject to change without notice.

Features

 = Standard
 = Not available
 = Option
 = Select models
 = Tourer
QUALITY INCLUSIONS
Fremantle
Air Conditioner – Roof mounted
Avida's unique, strong, highly insulated and light weight sandwich panel construction with aluminium underfloor protection
Avida's own 12V & 240V integrated distribution control panel & energy management system
Bar/entertainment area with 49inch TV and sound bar
Compliance – Certified weight certificate ex-factory with every vehicle
Compliance – RVMAP industry accredited manufacturer (look for the accreditation key)
External entertainment unit with radio speakers, table, 12V & 240V power & provision for TV
Fridge/freezer
Insulated walls and roof
LED mood lighting throughout
Microwave – Stainless steel
Motorhome battery in addition to the chassis battery – 100A 12V
x3
Recessed 3 burner LPG & 1 electric stainless steel stove with glass lid for extra bench space
Recessed LPG stainless steel stove with glass lid for extra bench space
Slide out pantry
Solar panel system with regulator
Splashback – Choice of several styles & colors
Television with DVD player
x3
Truma iNet – Control your hot water system/heater, and air conditioner through your phone
TV antenna – Wind-up with signal booster
USB charging station
Vinly floor throughout – Choice available
INTERIOR HIGHLIGHTS
Fremantle
Battery charger for motorhome battery
22A
Bench tops – Selection available to choose from
Cabinet door hardware – D handle with positive catch
Carpet mats – Removable
O
Cutlery drawer insert
Day & night shades
Décor – Colour co-ordinated throughout
Diesel furnace heater
Earth leakage protector – 240V
Electric roll down bed*

Electric slide out bed with tilt
Extended bench top
Fridge/freezer – 106L
Fridge/freezer – 90L compressor in bar/entertainment area
Fridge/freezer compressor
O
Full length wardrobe
Gas powered ducted heating system for air and water
Hot water system 12V electric start/gas & 240V
Inverter
2000W
Large skylight with flyscreen and blind over cabin
Lift up bed on gas struts
Magazine holder
Oven – Gas
Power – 12V & 240V
Reading lights
Roof vent in bathroom
Seating with choice of fabric collections
Separate tap at sink with water filter
Shelving
Shower
Single lever mixer water taps
Slide out room(s) – For extra living space

Stereo speakers in the rear
Storage – Ample throughout
Swivel bracket – Fitted to TV*
Table in lounge area – Removable
Tank & battery monitor system
Toilet roll holder
Toilet with cassette
Tooth brush holder
Towel rail
Tri fold table at dinette
Vacuum cleaner
Vanity basin
Washing machine
Waste pipes – Large to allow for better flow and minimise blocking – 40mm in diameter
Windows – Day & night shades
Windows – Double insulated dual pane windows with blind & flyscreen
Windows – Louvre windows with fly screens
Windshield privacy curtain
Wine bottle storage

EXTERIOR HIGHLIGHTS
Fremantle
Acrylic tail light surrounds
Aerodynamic moulded front
Awning – Electric
Awning – Light(s)
Awning – Roll out
O
Awning – Wind out
BBQ fitting
Chassis – Bull bar
O
Chassis – Nudge bar
O
Entry step – Electric
Entry step – Manual
Exclusive decals – Choice of many colour collections
External grab rail with light
External slide out kitchen sink – with ancillaries & BBQ caddy
External speakers – With additional radio inside
External surface mounted table
Fridge – 12V external
Full length roof guttering
Generator – Programmable energy command with remote start
2.3kVA
LED clearance lights
LP gas bottle
3x4kg
Motorhome entry door with dead bolt & fly screen
Moulded wheel arch flares
Mud flaps on rear wheels
Power point – external 240V
Roof rack & ladder
Satellite – TV receiver system automatic
O
Shower – External with hot and cold water
Solar panel wiring provisions
Stabilisers – Hydraulic stabilisers
Storage – On slide out for small BBQ, or portable generator
Storage bin – Lights
Storage bins – Hinged from side for easy access
Storage bins – Pass through
Stylish moulded rear wall
Tow bar & wiring
Water tank – Additional
SAFETY FEATURES
Fremantle
ABS – Antilock braking system
ADR approved child restraint
Driver and passenger airbags
Entry door grab handle & light
ESP – Electronic stability program control
Fire extinguisher(s)
High mounted rear brake light
LP gas leak detector
Reverse camera
Safety cupboard door catches
Smoke detector
CHASSIS FEATURES
Fremantle
Air bag suspension – rear
Air bag helper springs – front
Air conditioning
Bucket seats – Colour co-ordinated
Cabin entry side steps
Cruise control
Electric driver & passenger windows
Electric mirrors with demist function
GVM upgrade
Height & reach adjustable steering column
Power steering
Remote control central locking with engine immobiliser
Swivel seat(s)
Swivel seat(s) with arm rest(s)
O
Wheel dress rims
MULTI TERRAIN PACK (UPGRADE)
Fremantle
Spare wheel mounted on the rear wall for extra departure angle
Steel rear bumper
Nudge bar and driving lights
External BBQ fitting
Checker plate with black rear wall mould inserts
External shower with hot and cold water
Multi terrain decals
Solar panels
Additional fresh water tank

Specifications

| Model | C8614SL |
| --- | --- |
| Iveco Daily 70C-21 | |
| Exterior Length | 8610mm |
| Exterior Width | 2495mm |
| Exterior Height | 3390mm |
| Interior Height | 2015mm |
| Fresh Water Capacity | 175ltr |
| Grey Water Capacity | 100ltr |
| Black Water Capacity | 19ltr |
| Hot Water Capacity | 10ltr |
| LP Gas | 3 x 4kg |

Chassis Specifications

| | |
| --- | --- |
| Chassis | Iveco 70C-21 |
| Engine | 4 cylinder twin turbo diesel |
| Displacement | 2998cc |
| Power | 150kw (205hp) @ 3500rpm |
| Torque | 470Nm @ 3000rpm |
| Transmission | 8 Speed Automatic (Hi-Matic) |
| Fuel Type | Diesel |
| Fuel Capacity | 100lt |
| Rear Wheel Configuration | Dual rear wheels |
| Gross Vehicle Mass | 7200kg |
| Gross Combined Mass | 10700kg |
| Towing Capacity | 3500kg |
| Tyres | 225/75R16 |
| Wheelbase | 4750mm |
| Suspension | Front Independent with Adjustable Steel Torsion Bar, Rear Single Reinforced Leaf Spring with Airbag |
| Licence Requirement | Light Rigid (LR) |