Looking for a campervan that you can use for work or play? Well the Escape camper van is just what you are looking for. The Escape is sleek, stylish and compact enough to fit into the average family carport.
Not many campervans can boast sleeping four people comfortably and that is what sets the Escape apart from the rest thanks to the unique drop down bed system. And that's not all, the 'storage garage' allows you to take all your 'toys' away with you on your adventures.
Don't rough it; the Escape has a large living area and a handy kitchen with refrigerator, 3 burner stove and sink. The bathroom is huge, a toilet, vanity and shower with hot and cold running water. And if you want to take a break from the heat, switch on the air conditioning or wind out the awning for a little shade to relax under. What more could you ask for?
The versatile Escape – where fun begins the moment you hit the road.
With a lounge in the rear that acts as two single beds and an electric roll down double bed, the Escape is one of the few 4 berth camper vans Australian and New Zealand roads.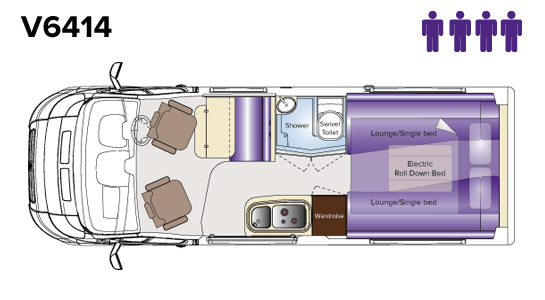 | | |
| --- | --- |
| Model | 64 Series |
| Fiat Ducato XLWB Van 150hp / 180hp | Yes Available |
| Exterior Length | 6363mm |
| Exterior Width | 2100mm |
| Exterior Height | 2772mm |
| Wheel Base | 4035mm |
| Interior Height | 1932mm |
| Fresh Water Capacity | 85ltr |
| Grey Water Capacity | 105ltr |
| Black Water Capacity | 17ltr |
| Hot Water Capacity | 14ltr |
| LP Gas | 2 x 4kg |
* Due to continuous improvement, specifications are subject to change without notice.
12 volt roof vent in bathroom
Avida's unique spacious swing out bathroom system
Double insulated dual pane hopper windows with shade & flyscreen
External exclusive decals
Insulated walls & roof
Manual single entry step
Windshield privacy curtain
ABS Braking System
Air Conditioning
Courtesy light with door opening power assist activation & delayed activation
Cruise Control
Driver and passenger Airbags
Driver and passenger lumbar support adjust
Dual leaf rear suspension system
Electric Front Windows (Driver & Passenger)
Electric Mirrors with Demist Function
ESP Stability Control
Full Head Rests
Height & Reach Adjustable Steering Column
Leather Wrapped Steering Wheel
Power Steering
Power windows
Programmable CD Stereo
Remote Control Central Locking with Engine Immobiliser
Single CD with AM/FM tuner
Steering wheel mounted stereo controls
Swivel seats with armrests
Trip computer
Under seat storage
1 x 100 amp motorhome battery
12 volt low voltage cut out switch
16 amp Battery charger
240 volt earth leakage protector
Avida's unique LCD 12 volt integrated energy management system with digital clock, battery voltage and amperage reading, interior and exterior temperature reading and 12 volt low voltage cut out switch
External awning light
Fluoro light in kitchen
Halogen reading lights
LCD TV/DVD player with 3 mounting points (2 inside & 1 out)
Stereo speakers in the rear
Wind up TV antenna with booster
ADR approved child restraint
Ample storage throughout
Cabinet door hardware push buttons
Colour coordinated decor throughout
Dinette with retractable lap sash seat belts
Electric roll down bed
Fold up & removable single beds
Magazine holder
Rear lounges
Removable table
Versatile storage area at rear for tool boxes, motorbikes, quad bikes, accessibility scooters and much more
Vinyl floor throughout
Wardrobe
104 litre fridge/freezer
Combination 3 burner LPG stove with stainless steel sink with glass lid
Cutlery draw insert
Fold down external table
Unique two way draw system accessible from outside the vehicle
2 x 4kg gas bottles
Hot water system 12 volt electric start/gas
Mains water pressure reducer
Water tank & battery monitor system
Water taps – single lever
Fire extinguisher
High mounted brake light
Safety cupboard door catches
108 litre compressor fridge
12 volt power sock at rear doors
Canvas annex for rear
Carousel microwave
Extendable shower for outside use from inside rear doors
Fly screen for rear entry door
Fly screen for sliding entry door
Nudge bar
Roof mounted air conditioner
Solar panels
Tow bar and wiring
| | |
| --- | --- |
| Model | 64 Series |
| Fiat Ducato XLWB Van 150hp / 180hp | yes available |
| Exterior Length | 6363mm |
| Exterior Width | 2100mm |
| Exterior Height | 2772mm |
| Wheel Base | 4035mm |
| Interior Height | 1932mm |
| Fresh Water Capacity | 85ltr |
| Grey Water Capacity | 105ltr |
| Black Water Capacity | 17ltr |
| Hot Water Capacity | 14ltr |
| LP Gas | 2 x 4kg |
Chassis Specifications
| | |
| --- | --- |
| Chassis | Fiat Ducato XLWB Van 150hp / 180hp |
| Engine | 4 cylinder turbo diesel |
| Transmission | Manual or MTA Semi automatic |
| Fuel Type | Diesel |
| Fuel Capacity | 90lt |
| Gross Vehicle Mass | 4005kg / 4250kg |
| Alternator Amps | 140 amp |
| Chassis Voltage | 12 volt |
| Wheelbase | 4035mm |
| Licence Requirement | Standard car licence |
With a lounge in the rear that acts as two single beds and an electric roll down double bed, the Escape is one of the few 4 berth camper vans Australian and New Zealand roads.

| | |
| --- | --- |
| Model | 64 Series |
| Fiat Ducato XLWB Van 150hp / 180hp | Yes Available |
| Exterior Length | 6363mm |
| Exterior Width | 2100mm |
| Exterior Height | 2772mm |
| Wheel Base | 4035mm |
| Interior Height | 1932mm |
| Fresh Water Capacity | 85ltr |
| Grey Water Capacity | 105ltr |
| Black Water Capacity | 17ltr |
| Hot Water Capacity | 14ltr |
| LP Gas | 2 x 4kg |

* Due to continuous improvement, specifications are subject to change without notice.

12 volt roof vent in bathroom
Avida's unique spacious swing out bathroom system

Double insulated dual pane hopper windows with shade & flyscreen
External exclusive decals

Insulated walls & roof
Manual single entry step

Windshield privacy curtain

ABS Braking System
Air Conditioning
Courtesy light with door opening power assist activation & delayed activation
Cruise Control
Driver and passenger Airbags
Driver and passenger lumbar support adjust

Dual leaf rear suspension system
Electric Front Windows (Driver & Passenger)
Electric Mirrors with Demist Function
ESP Stability Control
Full Head Rests
Height & Reach Adjustable Steering Column

Leather Wrapped Steering Wheel
Power Steering
Power windows
Programmable CD Stereo
Remote Control Central Locking with Engine Immobiliser

Single CD with AM/FM tuner
Steering wheel mounted stereo controls
Swivel seats with armrests
Trip computer
Under seat storage

1 x 100 amp motorhome battery
12 volt low voltage cut out switch
16 amp Battery charger

240 volt earth leakage protector
Avida's unique LCD 12 volt integrated energy management system with digital clock, battery voltage and amperage reading, interior and exterior temperature reading and 12 volt low voltage cut out switch

External awning light
Fluoro light in kitchen
Halogen reading lights

LCD TV/DVD player with 3 mounting points (2 inside & 1 out)
Stereo speakers in the rear
Wind up TV antenna with booster

ADR approved child restraint
Ample storage throughout
Cabinet door hardware push buttons
Colour coordinated decor throughout

Dinette with retractable lap sash seat belts
Electric roll down bed
Fold up & removable single beds

Magazine holder
Rear lounges
Removable table

Versatile storage area at rear for tool boxes, motorbikes, quad bikes, accessibility scooters and much more
Vinyl floor throughout
Wardrobe

104 litre fridge/freezer
Combination 3 burner LPG stove with stainless steel sink with glass lid

Cutlery draw insert
Fold down external table

Unique two way draw system accessible from outside the vehicle

2 x 4kg gas bottles
Hot water system 12 volt electric start/gas

Mains water pressure reducer

Water tank & battery monitor system

Water taps – single lever

Fire extinguisher
High mounted brake light

Safety cupboard door catches

108 litre compressor fridge
12 volt power sock at rear doors
Canvas annex for rear

Carousel microwave
Extendable shower for outside use from inside rear doors
Fly screen for rear entry door

Fly screen for sliding entry door
Nudge bar
Roof mounted air conditioner

Solar panels
Tow bar and wiring

| | |
| --- | --- |
| Model | 64 Series |
| Fiat Ducato XLWB Van 150hp / 180hp | yes available |
| Exterior Length | 6363mm |
| Exterior Width | 2100mm |
| Exterior Height | 2772mm |
| Wheel Base | 4035mm |
| Interior Height | 1932mm |
| Fresh Water Capacity | 85ltr |
| Grey Water Capacity | 105ltr |
| Black Water Capacity | 17ltr |
| Hot Water Capacity | 14ltr |
| LP Gas | 2 x 4kg |

Chassis Specifications

| | |
| --- | --- |
| Chassis | Fiat Ducato XLWB Van 150hp / 180hp |
| Engine | 4 cylinder turbo diesel |
| Transmission | Manual or MTA Semi automatic |
| Fuel Type | Diesel |
| Fuel Capacity | 90lt |
| Gross Vehicle Mass | 4005kg / 4250kg |
| Alternator Amps | 140 amp |
| Chassis Voltage | 12 volt |
| Wheelbase | 4035mm |
| Licence Requirement | Standard car licence |